Equator museum Quito
The following article was first published by the online magazine Skeptical Inquirer
by Rob Palmer - January 8, 2020
Rights attributed to the Skeptical Inquirer Magazine.
Ecuadorian Equatorial Pseudoscience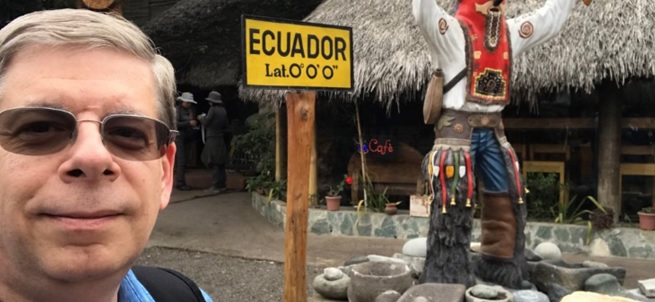 Picture this: You are a science enthusiast on tour at a museum. Your guide starts to lecture to your tour group about scientific "facts" you are familiar with, and you realize she is presenting pure nonsense—scientific errors and pseudoscience of the highest order. You wonder if the guide misspoke, is misinformed, or is just making stuff up. However, it soon becomes clear that at least some of the information she is imparting to people is outright misdirection, because in some cases she is doing magic tricks to prove her points. Worse, as the tour goes on, it seems all but certain that this misinformation is sanctioned by museum management, as you hear in the background the other guides saying pretty much the same incorrect things to each of their groups of tourists..
What would you do? Would you say, "Excuse me, but you people have this all wrong"? Or would you hold your tongue and suffer in silence? Well, if you're a guest in a foreign country where you don't even speak the language, plus you know your spouse will never forgive you if you say what you want to say and embarrass her, then maybe you would hold your tongue.
That's what I did, and it almost killed me. I listened to erroneous claim after erroneous claim and witnessed a variety of tricks that were performed to verify those claims, all without saying a thing. I did roll my eyes quite a bit, however. And I recorded much of the tour, so I could get the details right to share with Skeptical Inquirer online readers. So, here is my report. MORE ... PLEASE VISIT THE SKEPTICAL INQUIRER ON LINE MAGAZINE.