"Manu national park tours - Cusco Peru"
From Cusco trips to the Manu rainforest. In Manu National Park you can easily observe wildlife such as giant otters, caimans, tapirs, monkeys, macaws, toucans and on some occasions our groups spot jaguars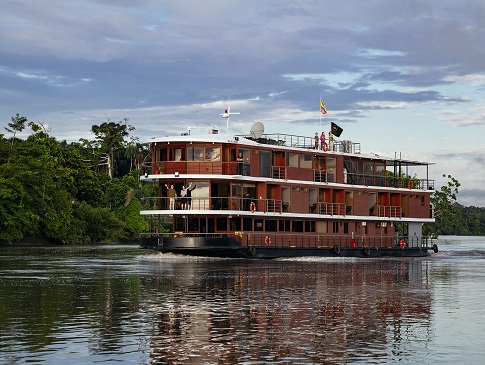 "5 Days Ecuador Amazon Explorer".
Visit Manu National Park especially between May and August, when the sky is clear

The Manu National Park(PNM) is located in the provinces of Paucartambo in Cusco and Manú in Madre de Dios. Its extension is 1716295.22 hectares. Its establishment seeks to protect a representative sample of the biological diversity, as well as the landscapes of the low jungle, the eyebrow of the jungle and the Andes of the Peruvian south-east.
The PNM is home to a large number of wildlife species. There have been about 160 species of mammals, more than 1,000 species of birds (mostly residents), about 140 species of amphibians, 50 species of snakes, 40 lizards, 6 turtles, 3 alligators and 210 fish
The PNM has one of the most renowned research centers for the tropics: the Cocha Cashu biological station. In the lower basin of the Manu River there are five camping areas, three viewpoints or breakwaters, three shelters in use, an 18 m high metal tower in Otorongo car and a raised path with platform in the Limonal sector.
Five areas have been allocated for the visit, where a high diversity of flora and fauna is concentrated, these are: Salvador, Otorongo, Juárez (these three are cochas), Pakitza and Limonal
In addition, you can visit the Interpretation Center located at the El Limonal surveillance post. The Tres Cruces viewpoint, at the southern end of the Park, allows spectacular sunrises to be seen over 3,600 meters above the Amazonian plain. Through an optical phenomenon - especially between May and August, when the sky is clear - you have the impression that the sun appears twice at the same sunrise. In addition you can see two opposite panoramic views: the mountains to the south and the impenetrable cloud forest to the north. From this place you can take a signposted pedestrian circuit of approximately 7 km (3 h) of travel, from the Acjanaco lookout to the Pillahuata estate.
On the other hand, the number of insects in the PNM is very high. It is estimated that there are about 30 million species. At the same time, more than 1,300 species of butterflies, 136 of dragonflies, at least 300 of ants (more than 40 species were found in a single tree) and more than 650 beetles. With regard to the flora of the PNM, the number of plant species is very high. The various records indicate that there are at least 162 families, 1,191 genera and 4,385 identified species. Up to 250 varieties of trees were found in a single hectare. Aguajales forests are one of the most prominent ecosystems, where aguaje (Mauritia flexuosa) and huasaí (Euterpe precatoria) palm trees are the dominant
Manu information